Music With Nature Series™
Impressions of the Rocky Mountains I and II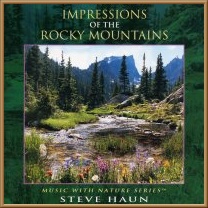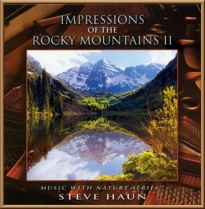 "The best-selling recordings throughout Rocky Mountain National Park"
Impressions of America's National Parks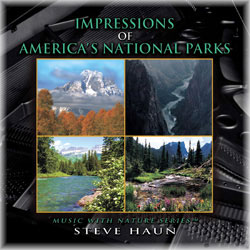 Download Steve Haun's Flyer (pdf)
Download Steve Haun's Postcard (jpg)
Steve Haun's newly released recording, "Impressions of America's National Parks" is on SALE now at CDBaby.com. Be one of the first to own Steve's Music with Nature, an album that CDBaby calls:
"An epic musical 'painting' of America's most splendid and magnificent landscapes...America's National Parks."
Steve Haun's newest albums from his Music With Nature Series™, Impressions of the Rocky Mountains I and II, are his most acoustic and symphonic recordings to date, as well as the perfect opportunity for him to compose music about a particular region of the country he knows intimately. He explains, "the overall theme of the albums is simply to capture the beauty and essence of the Rocky Mountains. I decided that I wanted to compose the music utilizing symphonic players and orchestrations as well as acoustic piano, performed on a Bosendorfer Imperial & Yamaha C7 Grand Pianos. One of my main goals in the composing and recording process was to make the albums eclectic, but at the same time cohesive. I want the listener to experience the Rocky Mountains every time he or she hears the music."
The result is a sound as big as the great outdoors, which manages to retain a sense of warmth, intimacy and delicacy. The music transforms effortlessly from heroic themes to reflective interludes, sweeping across vast flower-studded alpine meadows to lofty snow-capped glacier peaks. Interspersed with nature soundscapes, the project uses state-of-the-art Wave Dance spatial audio technology to take the listener on a multi-dimensional journey resulting in ultimate, unsurpassed realism.
"Performance-wise, the albums differ from my previous recordings because I played more acoustic piano, thus the music was fairly demanding and there was less margin for error. Compositionally, the album was a breakthrough because the music is more sophisticated than my previous recordings. I utilized compositional techniques that I learned in graduate school, such as impressionistic and neoclassical styles, melding them with the feelings that the scenic landscapes evoked inside me for an intricately balanced and harmonious presentation."
Every day that Steve spent in the studio saw something unusual happening, sometimes a soul-stirring solo performance, other times a quieter but still important mixing innovation. He notes "for example, renowned saxophonist & acclaimed flute virtuoso Nelson Rangell was recording flute on a track and in the middle of a very inspired performance, he quit playing and instead sang his own melody with the lyrics, "it's all about me, just about me, just about me. To this day, I can't listen to that piece without hearing his voice in my head and laughing!"
Haun's own favorite tracks on the albums are the solo piano pieces, "SoulMates," "Mountain Waltz" and "Forever by the Brooke," composed for his wife Wendy and daughters, Bridgette, Brittney & Brooke. In addition, Haun enjoys the orchestral and spacious, pastoral splendor of "Visions of Paradise," of which he says, "this track has an 'Out of Africa' feel to it and for one of the rare times, I feel like the finished piece is exactly the way I initially conceived it. The piece is symphonic, visual, cinematic, dynamic and represents one of my favorite styles of music; in other words, music I enjoy listening to again and again."
Further, Haun states "I feel that the Music With Nature Series™ albums, "Impressions of the Rocky Mountains I & II" are my best recordings to date, both musically and compositionally and that I am improving as both a composer and performer. It feels like I'm moving in the right direction, as my ultimate dream, which is gradually becoming a reality, is to compose music for film." After listening to the lavish score of these exciting new albums, Steve Haun's dream may be closer to his ultimate realization, as this music is nothing less than the score to one of the most spectacular soundtracks of nature itself: America's majestic Rocky Mountains.
NOTE: Purchase of these albums help protect and preserve our National Parks.

Wave Dance Audio

These albums were recorded using Wave Dance audio technology - Sounds so true, the human ear can't distinguish the recording from reality™. While listening, you will feel that you are actually present when a bird sings or a musical instrument is played. You will hear, feel, and experience a multi-dimensional audio journey while being surrounded by unsurpassed realism. Revisit the Rocky Mountains every time you listen.